When I was growing up history class was dull and boring. Just a string of meaningless places and dates with faceless names parading across the pages of a dull history textbook. I endured history class but never really understood why it was important if I could name places and dates and associate them with names.
All of that changed in college when I discovered historical fiction. I am a reader. I've always loved books and read just about anything I could get my hands on but never really made the connection between the stories I enjoyed and their potential place in history. Then I discovered an author who wrote "historical fiction" and suddenly those nameless people with meaningless places came to life and I wanted to know more!
Today my family loves history. It is my favorite subject to teach. We use historical fiction to bring the people and the time period to life and to whet our appetite to learn more. Historical fiction is a valuable educational tool and we need more quality publishers providing great literature to introduce us to historical events, places and people
Rather than reviewing a particular book, the TOS Review Crew was asked to review a publishing company.
Daniel Mills, a home school graduate, established Salem Ridge Press in 2005. Salem Ridge Press is a publishing company that recognizes the value of historical fiction and seeks to publish wholesome quality books. Salem Ridge Press offers historical fiction in three areas: Church History, World History and American History. In addition to historical fiction, Salem Ridge Press offers selections in Adventure, Allegory and even Young Readers.
As part of the TOS Review Crew, Salem Ridge Press sent me a sampling of the books they publish. I received, in soft cover format, From Bondage to Freedom from the Church History Series. I received a second title from the Church History Series, Before the Dawn in E-Book format. I also received, in E-book format, Marie's Home from the World History category.
I am impressed, intrigued and fascinated by Salem Ridge Press. I love what Daniel is trying to do and I am thrilled that Salem Ridge Press has sought to bring back out of print books. However, I feel it is necessary to point out that all authors have a bias and we are all influenced by our own time and culture. When reading historical fiction, it is important to keep in mind the author's bias and culture.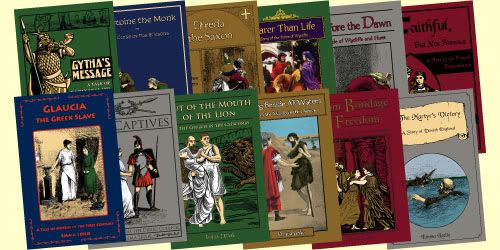 I found that Emma Leslie, author of the Church History Series, to be an entertaining and engaging author, but the two books we read reflect a strong 19th Century bias. I can't help but question the historical accuracy of From Bondage to Freedom and Before the Dawn. 19th Century thoughts and ideals were projected on to 6th century characters. I found it disconcerting to hear modern theological ideas being spouted from characters who lived 6 and 7 centuries before those theological ideas were born.
Though I found it frustrating to sift through Ms. Leslie's personal bias, I found the story to be so gripping that I had to continue reading! I just kept a notebook by my chair and would jot down names, ideas or questions as they came up so that I could research them later. I know that it is fiction based on fact. I just found it difficult at times to know where the fact ended and the fiction began. I do want to mention that we did enjoy the story
I think that the Church History Series by Emma Leslie can be a great tool to bring those time periods to life, but like all historical fiction it should be read to supplement and enhance a study of the historical period; it should not be the sole teaching for that period.
Salem Ridge Press provides a sample chapter of each book. After reading several of those samples we found several books that do not appear to have the same degree of bias. Turtlegirl read the sample chapter of Out of the Mouth of the Lion. She called it "intriguing". I do think my family would enjoy reading more of these books.
I can see myself using these as part of our home school religious studies. I would continue to read them aloud to foster discussion and I would require research from my students to verify the accuracy of historical facts. I think it could bring life to otherwise dull and boring studies.
The Church History Series comprises most but not all of the books published by Salem Ridge Press. The third novel we sampled, Marie's Home was not part of the Church History Series but is one of two selections in the World History section. I did not have the same reactions to this novel as I did to the Church History Series.
While reading through other sample chapters, I found Young Robin Hood. This is one of the Young Reader novels. I did not receive a copy of this book, but after reading the sample chapter, I am sure that Supergirl would love it and that Turtlegirl and TailorBear would both want to read it aloud to her. I think I just might have to put that one on my wish list!
Salem Ridge Press offers both softcover and hardcover versions of the novels ranging from $10.95 to $18.95 (softcover) and $20.95 to $26.95 (Hardcover) A few of the novels are offered in clothbound from $26.95-$28.95. If you click here (full set) or here (Early Church Set) or here (Medieval Church Set) you can find the church history series in money saving bundles. The novel I received in softcover was beautifully bound and I found the typeset easy to read.
I recommend spending some time reading about the company and how they choose books. If you like what you see you can request to receive their newsletter and perhaps win a book!
Click on the image below to read what my fellow crew mates have to say about Salem Ridge Press.
Disclaimer: As a TOS Crew member, I received 2 e-books and 1 paperback book from Salem Ridge Press for review purposes. I received no other compensation.